Spy&Go: protein purification and team-building using one tag
In a publication in Nature Communications Mark Howarth's lab expands the protein nanotechnology repertoire, altering the function of the protein superglue SpyCatcher to reversibly capture its partner SpyTag. Subsequently, the Spy toolbox simplifies the building of proteins into teams of 2-7 members for enhanced cell stimulation
In 2012, the Howarth lab dissected a protein from the pathogenic bacteria Streptococcus pyogenes to create SpyTag peptide and SpyCatcher protein. When the pair meet each other, they spontaneously form an irreversible and permanent covalent bond. The ease and specificity provided by SpyTag and SpyCatcher led to applications ranging from vaccine production to living materials. 
Up until now, the production of SpyTag-proteins proceeded via conventional purification methods, mostly by immobilised metal affinity chromatography. This requires the presence of a purification tag, which becomes functionless once purification is finished. This current work explores the use of SpyTag itself as a purification tag. For this, Irsyad Khairil Anuar, a DPhil student in the Department, engineered SpyCatcher to form SpyDock, a mutant that can bind but not react with SpyTag. As the association between SpyDock and SpyTag is reversible, SpyTag-proteins can be efficiently purified from cells in a process he called Spy&Go.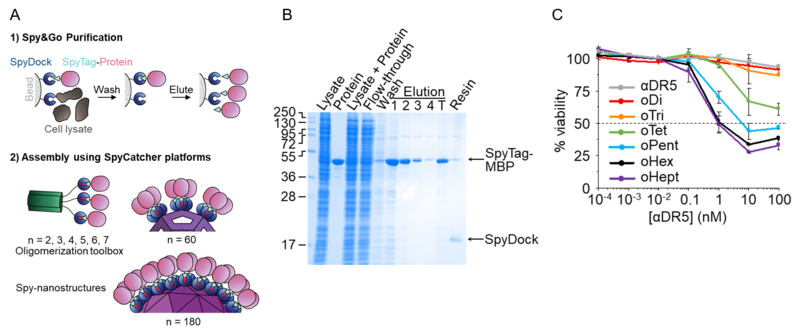 (A) Illustration of Spy&Go purification method and downstream oligomerisation of SpyTag-proteins. (B) High purity of SpyTag-MBP purified using Spy&Go method. (C) Displaying different numbers of anti-DR5 nanobody using the Spy oligomerisation toolbox reveals reduced live cancer cells as more anti-DR5 are clustered (Click image to enlarge)
The Spy&Go paper, published in April 2019 in Nature Communications, also presented the Spy oligomerisation toolbox for plug-and-display of SpyTag-proteins. This involved combining the spontaneous assembly of coiled coils into dimeric, trimeric, tetrameric, pentameric, hexameric or heptameric molecules with SpyCatcher, allowing the systematic display of SpyTag-proteins through the SpyTag/SpyCatcher chemistry. Users can simply plug-and-display different SpyTag-proteins to study the effects of protein clustering. Anusuya Banerjee in the lab exemplified this by showing the effects of clustering anti-Death Receptor ligands for activating cancer cell death. 
"SpyTag/SpyCatcher has already helped researchers advance many biological fields. We are actively looking to provide more tools to facilitate the use of SpyTag/SpyCatcher, such as the Spy&Go purification method and Spy oligomerisation toolbox, in the hope that many more will benefit from this technology in their research" said Irsyad. Anthony Keeble, Alberto Carella and Georgi Nikov in the Department also contributed to the research. Spy&Go should open new opportunities for protein production, particularly for rapid response in building vaccines against disease outbreaks.
References
Khairil Anuar, I.N.A., Banerjee, A., Keeble, A.H., Carella, A., Nikov, G.I. and Howarth, M. (2019). Spy&Go purification of SpyTag-proteins using pseudo-SpyCatcher to access an oligomerization toolbox. Nature Communications, March 2019 10:1734
https://www.nature.com/articles/s41467-019-09678-w
 
Keeble, A. H., & Howarth, M. (2019). Insider information on successful covalent protein coupling with help from SpyBank. Methods in enzymology, 617, 443-461. DOI: https://doi.org/10.1016/bs.mie.2018.12.010
Mark Howarth
23rd April 2019